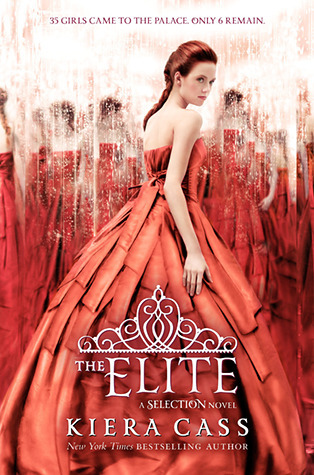 The Elite(The Selection, #2) by Kiera Cass
Page Count(Hardcover Edition): 323 pgs
Publisher: HarperTeen
Released: April 23rd, 2013
Genre: Young Adult Dystopia
My Rating: 5 stars
Read: from

April 25 to May 02, 2013
Source: Amazon
Synopsis:
The hotly-anticipated sequel to the New York Times bestseller, The Selection.

Thirty-five girls came to the palace to compete in the Selection. All but six have been sent home. And only one will get to marry Prince Maxon and be crowned princess of Illea.

America still isn't sure where her heart lies. When she's with Maxon, she's swept up in their new and breathless romance, and can't dream of being with anyone else. But whenever she sees Aspen standing guard around the palace, and is overcome with memories of the life they planned to share. With the group narrowed down to the Elite, the other girls are even more determined to win Maxon over—and time is running out for America to decide.


Just when America is sure she's made her choice, a devastating loss makes her question everything again. And while she's struggling to imagine her future, the violent rebels that are determined to overthrow the monarchy are growing stronger and their plans could destroy her chance at any kind of happy ending.
(from Goodreads)
The Elite is the 2nd out of three books in Kiera Cass's trilogy, The Selection, of which I am wholeheartedly OBSESSED with! I had high expectations for this book because of The Selection, and let me tell you, I wasn't the slightest disappointed!
Since this is the 2nd book in the series and the competition between girls is narrowing down, it was definitely faster paced than with the first. I loved that, I kept right up with it as I finished it in a mere few days. I couldn't get enough of it. I was turning pages left and right.
One thing that made this book so exciting was the amount of action! The attacks on the castle became more frequent and had higher stakes, so naturally my heart was beating out of my chest. I also adored the development of Maxon and America's relationship. Though Maxon has other girls as well at the castle, it wasn't hard for me to see how much he truly cares for America and all that she stands for! I will support them till the end. (

TEAM MAXON ALL THE WAY).
I won't say it, but something happens to a pivotal character in the story that truly ripped my heart out! I was so shocked when I read the words along the lines of "She is being caned" I love this particular character so much and almost cried when this happened. Props to Kiera for making me so emotional!
As you already know, I like Maxon over Aspen. I believe that Aspen had his chance with America in the beginning, and since that didn't work out, it's Maxon's turn now! I know that America loves them both blah blah, blah, but STILL. I like Maxon better plain and simple. I just wish Maxon would man up and America would quit being so indecisive over the two of them! Ugh just pick one!(Preferably Maxon please and thank you (: )
Yes, yes yes yes yes I totally absolutely recommend this book to everyone and anyone out there because I love this series just as much as the next person and I want you to share these feelings as well with me! But please read The Selection first because reading them out of order would kinda ruin it!
♦Haley♦